Quality German Vacuums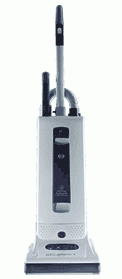 Sebo upright vacuums are the finest quality vacuums available.
The upright series features a lifetime warranty on the brush roll drive. ( no belts to change). The vacuum will raise and lower itself to the proper height for all surfaces. There is no need to bend over to replace the paper bag. You simply remove the front cover and the bag is on the cover. It is one of the quietest vacuums available. Sebo is one of the largest European commercial vacuum manufacturers and we now have the opportunity to have these vacuums in our homes.Come into one of our locations and check these out!


Click Here
for a complete Sebo X U/R Owners Manual. Made in Germany.
This is a great way to become familiar with the Sebo Upright Features.